Business Strategy and Marketing Interest Group was established in 2004 following the establishment of the school. The group has three clusters namely Business Strategy, Marketing, and International Business.
A. Research Cluster
Business Strategy Cluster
Business Strategy cluster seeks to provide a deeper understanding of the formulation and implementation of business strategy in both local and international contexts. The cluster deals with business issues that become the utmost concern of top management in companies, such as sustainable competitive advantage, dynamic capabilities, competitive and cooperative strategies, organization resources, and key success factors to win the competition. The level of analysis can vary, by looking from the individual perspective in an organization or by seeing the organization as a collective entity operating in a larger system of relations.
Marketing Cluster
The Marketing cluster has a goal to advance our understanding of customer behavior and its implications to marketing strategy. Research areas covered by this cluster are customer and shopper behavior, branding, neuromarketing, marketing strategy, service marketing, and customer experience. Furthermore, this cluster concerns the identification of attractive market opportunities and threats and the forecasting of future trends in business areas of interest. The context of the study includes both Business to Consumer and Business to Business settings.
International Business cluster
The cluster of International Business addresses the concern of international, transnational, multinational, and global companies. The members actively engaged in the analysis of international business contexts. They aim to bring the knowledge of global competition, emerging markets, foreign market entry modes, foreign direct investment, cross-border cooperation, and so on to society. The cluster is also interested in issues concerning international cooperation such as joint ventures, strategic alliances, and technology transfer.
B. Research topics
Business strategy
Strategic management
Digital Business Transformation
Inclusive business digital ecosystem platform
Government policy research for inclusive business production and trading
Investment Management
Digital Readiness Measurement
Cooperatives and SME's Business Strategy
Sport and Entertainment Management
Marketing
Collaborative Consumption, Co-Creation, and Personalization
Acculturation of global consumer culture
Popular culture, marketing, and consumer storytelling
Digital Customer Experience
Digital Retailing and Omnichannel Retailing
Digital marketing and social media
Digital public relations
Branding strategy
Brand co-creation and co-recovery
Services marketing
Service co-recovery
Mobile marketing
Neuromarketing in food and beverage, tourism and games
Emotional evoke
Sustainable business and consumption
Inter-island trading channel in Indonesia
Visual communication design
Promotion & media planning
Packaging design management
Servicescape management
Marketing halal
Technology adoption and commercialization
Business-to-business marketing
Consumer behavior and online communities
Choice modeling
Travel behavior
Transport planning
Technology-Enabled Services (i.e. service robots, chatbots, wearable device, financial technology)
Luxury Brand Management
Halal Tourism
International business
International business and trade
Trading houses for geographical identity agricultural products
Global Fashion Marketing
Research Roadmap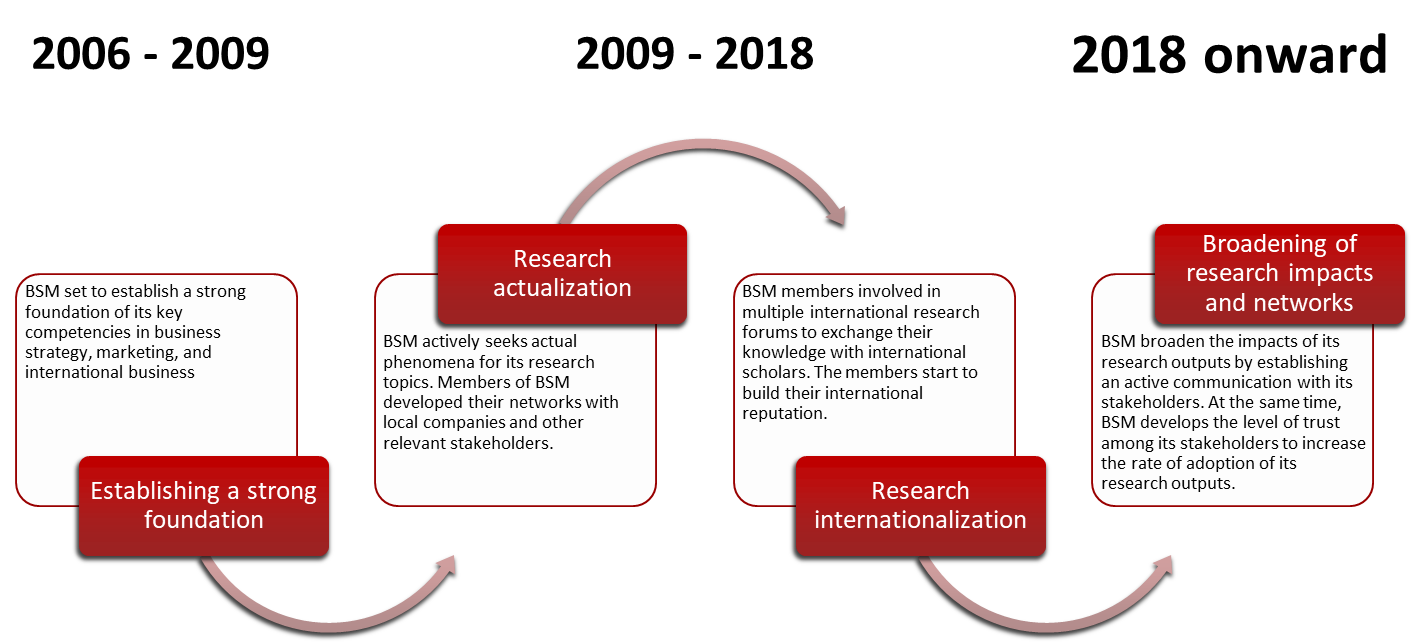 Members
Head: Dr. Mustika Sufiati Purwanegara
Annisa Rahmani Qastharin, M.Sc
Atik Aprianingsih, Ph.D.
Fitri Aprilianty, MSM
Harimukti Wandebori, MBA, Ph.D.
Ilma Aulia Zaim, Ph.D.
Ira Fachira, Ph.D.
Mia Tantri Diah Indriani, M.Si., M.Sc.
Nila Armelia Windasari, SA., MBA., Ph.D.
Nurrani Kusumawati, SE, MSM
Prawira Fajarindra Belgiawan, Ph.D.
Prof. Reza Ashari Nasution, Ph.D.