Business Strategy and Marketing Research Group is a research group under the School of Business and Management of Institut Teknologi Bandung.
It was established in 2004 following the establishment of the school. The group has two clusters namely Business Strategy and International Business Cluster and Strategic Marketing Cluster.
Body of Knowledge
A. Business Strategy and International Business Cluster
Business Strategy and International Business Cluster seek to provide deeper understanding business strategy in both local and international context. Research issues in this area are strategy formulation?s influencing factors, competitive and cooperative strategies, competitive advantage, and top management issues. The level analysis can vary, such as based on the behavior of individuals within the organization, based on structural features or process that characterize organizations, or by seeing organization as collective entity operating in a larger system of relations. Furthermore, in deepening our understanding of international context, we are interested in global competition, emerging markets, location decisions, foreign market entry modes, foreign direct investment, international financial markets, cross-cultural management following cross-border cooperation and so on. We are also interested in issues concerning international cooperation such as joint ventures, strategic alliances, and technology transfer.
B. Strategic Marketing Cluster
Strategic marketing cluster seeks to advance our understanding how firms successfully manage their customer and their environment in order to sustain by having above average return. There are several research areas covered by this cluster. First, we seek to understand marketing strategy formulation process, which includes how to identify and analyze relevant information that comes from internal and external environment. Furthermore, this stream of research concern with the identification of attractive market opportunities and threats and the forecasting of future trends in business areas of interest. Second, we focus our inquiry on how customers and competitors are responding to marketing strategy implemented by the firm. This information serves as input to developing marketing models that are useful for marketing decision maker. Third, we are interested to investigate how marketing and organization are related, especially on how different business entities interact with one another in Business-to-Business setting. Lastly, we plan to increase our understanding on how elements of a business environment, such as the firm, customers, and other organizations and institutions interact and form interdependency. This also includes research of the existing networks of interdependencies and ecosystem-like dynamics.
B1. Research Stream
Research in Strategic Marketing Cluster is divided into four interrelated streams as follows:
1. Marketing Strategy Stream
Research on Marketing Strategy seeks to understand how company makes strategic decisions and develop a marketing strategy designed to maximize the revenues and profits based on its consumer behavior profile and its competitive position in the industry. Nowadays, we need to improve our knowledge on customer segmentation, targeting, and company positioning. To make differentiation, offer superior value to customers, and maintain competitiveness is what companies need to do. Research on these issues will develop our capacity to formulate marketing strategy.
2. Marketing Models Stream
To enhance our understanding about marketing phenomenon of real world, models are, usually, developed to make a prediction which can be descriptive, predictive, or normative. Marketing models might depict operations such as an existing product distribution system; a consumer?s value structure, consumer preference modeling for product choices, or the effects of advertising on consumer awareness, knowledge, attitudes, or intention to purchase. Research on these will certainly improve our capability in marketing management decision making.
3. Marketing & Organization Stream
Satisfying consumer needs and wants ultimately lies in the capability of a firm to deliver its promise to its consumers. In this research stream, we focus our inquiry on marketing aspects in Business-to-Business setting. The Business-to-Business marketing context differ from customer marketing due to the complex decision-making process and parties involved, the volume, frequency, and value of the transaction; Furthermore, research in this stream attempt to recognize the complexity of business-to-business transaction and how firm can address this complexity in order to satisfy the need of business buyer.
4. Marketing & Sustainability Stream
The purpose of the strategy is to enable firm to continue striving in the competition in order to survive in the long term. In this research stream, Business Strategy, and Marketing cluster seek to deepen our apprehension toward the ecological level of analysis in marketing. Furthermore, we focus our inquiry on the characteristics of the marketing organization as a collective entity operating in a larger system of relation, the interplay between a marketing organization or a class of marketing organization and the environment, and the relationship developed among organization as an interdependent system.
Research Roadmap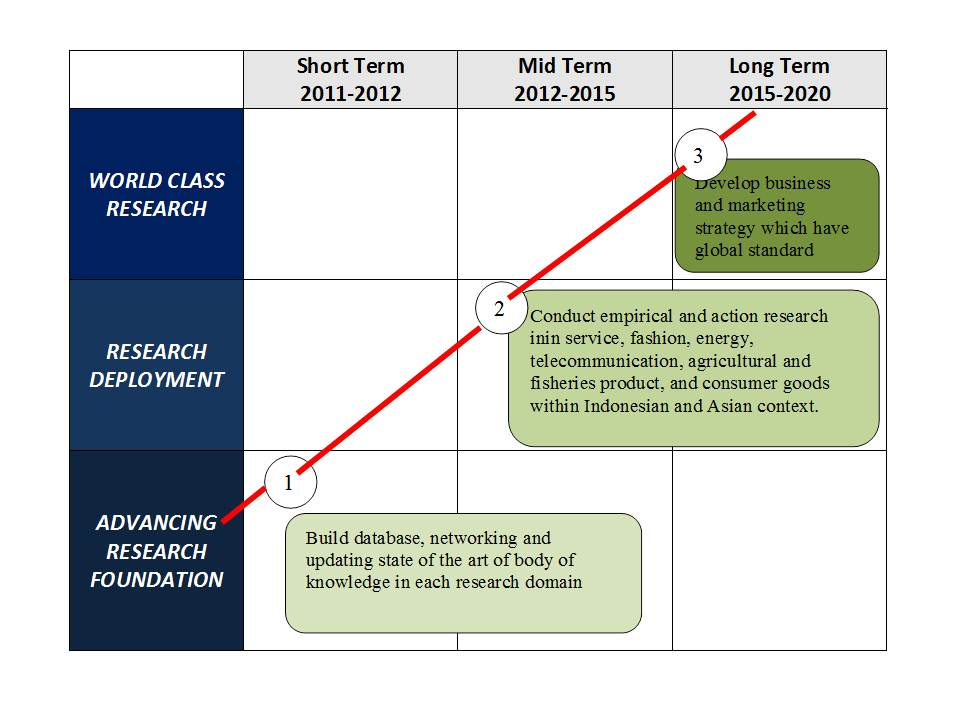 Members
Chairperson: Reza Ashari Nasution, Ph.D